I have seen several drought stressed lawns this month and cannot say it enough…watering is key to keeping your lawn healthy and fall is a key time to prepare your lawn for winter. It is also the time when watering is most often neglected.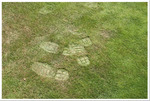 Ignoring fall watering will open your lawn up to insects and diseases. Proper watering should take into consideration the species, soil type, fully shaded area, full sun areas and weather conditions.  A sure sign that your lawn is dry is when you leave footprints on your lawn that do not disappear within 1 hour.
Clean up any debris on your lawns such as leaves. Many trees are experiencing early leaf drop this season so there are sure to be many leaves just lying around.
We are also recommending a fall lawn fertilization to prepare your lawn for winter.
Voles:
Voles have continued to be a problem this year, which is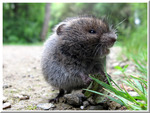 unusual during the summer months. Voles are small mammals, slightly larger than a mouse, that normally live in field and shrub habitats. In the wild, voles forage on native vegetation and provide a valuable food source for predators such as weasels, owls, hawks, and snakes. In homeowner plantings, however (including lawns, flowers, shrubs, and home orchards), voles can cause serious
damage by eating flower bulbs, girdling the stems of woody plants, and gnawing roots. Plants not killed outright may be invaded by diseases or die from water stress during periods of drought. It is important to be alert for signs of vole damage. In lawns, trails or paths can be seen leading back to the den or mulch/rock area. Often times this damage occurs under snow and is not visible until the snow melts. In bushes, the girdling of the bases will cause browning, killing limbs of evergreen shrubs leading to brown areas in the canopy of the shrubbery. Typically voles girdle trees and saplings at the ground line.
Close inspection of the damage will reveal paired grooves left by their chisel-like teeth. The grooves will be about 1/16 inch wide. Girdling completely around the tree trunk will kill the tree, so any indication of above- ground damage is cause for instituting a control program.
Currently, trapping or rodenticides are the only ways to control vole populations in home or institutional landscapes and orchards. Careful and routine inspections will reveal areas of vole activities. Trapping or rodenticides should be applied only in those areas.